Ascension Island
<![if !vml]>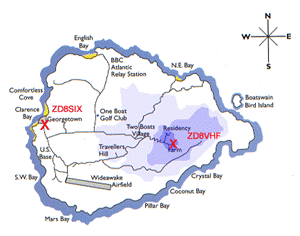 <![endif]><![if !vml]>
<![endif]>
Ascension Island is an island in the South Atlantic Ocean, around 1,600 km from the coast of Africa. It is a dependency of the British overseas territory of Saint Helena, which is 1,287 km to the south east. The Island is named after the day of its recorded discovery, Ascension Day.
Ascension Island became inhabited in 1815, when the British garrisoned it as a precaution after imprisoning Napoleon I on St Helena to the southeast. The location of the island made it a useful stopping point for ships and communications. The Royal Navy used the island as a victualling station for ships. In 1922, Letters Patent made Ascension a dependency of Saint Helena.
The island is the location of Wideawake Airfield, which was built by US during WWII and is a joint facility of the Royal Air Force and the United States Air Force. The Island was used extensively by the British military during the Falklands War. Ascension Island hosts one of three ground antennas (others are on Kwajalein and Diego Garcia) that assist in the operation of the Global Positioning System (GPS) navigational system.