Burma
<![if !vml]>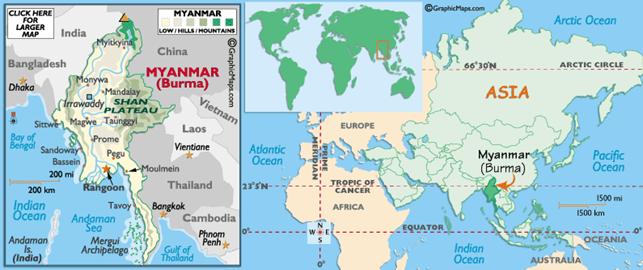 <![endif]>
Burma, officially the Union of Myanmar, is the largest country by geographical area in mainland Southeast Asia or Indochina. The country is bordered by China, Laos, Thailand, Bangladesh, India and the Bay of Bengal with the Andaman Sea defining its southern periphery. One-third of Burma's total perimeter, 1,930 kilometers, forms an uninterrupted coastline.
Burma has been home to many different ethnic groups for over four thousand years. There were many wars and political power changed hands frequently. Burma came directly under British India in 1886 after the Third Burmese War. Burma was administered as a province of British India until 1937 when it became a separate, self-governing colony. The country became independent from the United Kingdom on 4 January 1948, as the "Union of Burma". It became the "Socialist Republic of the Union of Burma" on 4 January 1974, before reverting to the "Union of Burma" on 23 September 1988. On 18 June 1989, the State Law and Order Restoration Council adopted the name "Union of Myanmar" for English transliteration. This controversial name change in English, while accepted in the UN and in many countries, is not recognized by opposition groups and by nations such as the United Kingdom and the United States.
The country's culture, heavily influenced by neighbors, is based on Theravada Buddhism intertwined with local elements. Burma's diverse population has played a major role in defining its politics, history and demographics in modern times, and the country continues to struggle to mend its ethnic tensions. The military has dominated government since General Ne Win led a coup in 1962 that toppled the civilian government. Burma remains under the tight control of the military-led State Peace and Development Council.