Dominica
<![if !vml]>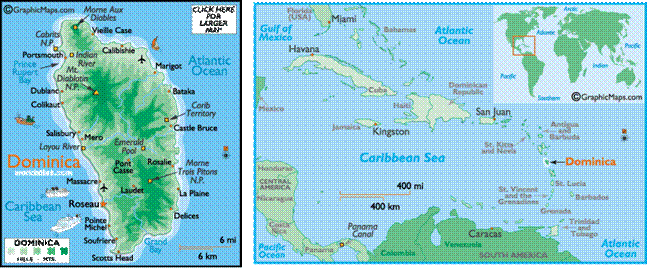 <![endif]> 
The Commonwealth of Dominica, commonly known as Dominica, is an island nation in the Caribbean Sea. In Latin, its name means "Sunday", which was the day on which it was discovered by Columbus.
Because the island lies between two French overseas departments, Guadeloupe to the north and Martinique to the south, and because it was colonized by France for a time, it is sometimes called "French Dominica". However, its official language is English, though a French creole is commonly spoken.
The United Kingdom set up a government and made the island a colony in 1805. The emancipation of African slaves occurred throughout the British Empire in 1834, and, in 1838, Dominica became the first British Caribbean colony to have a Black-controlled legislature. In 1896, the United Kingdom reassumed governmental control of Dominica and turning it into a crown colony. Half a century later, from 1958 to 1962, Dominica became a province of the short-lived West Indies Federation. In 1978 Dominica finally became an independent nation.