Dominican Republic
<![if !vml]>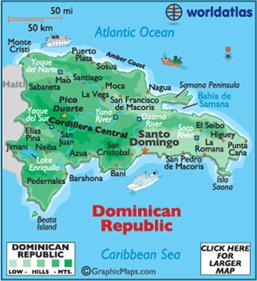 <![endif]> <![if !vml]>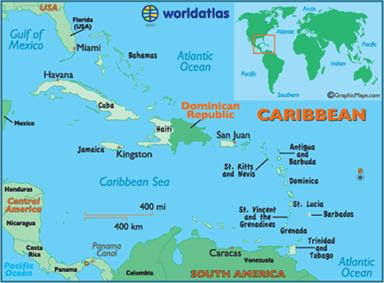 <![endif]> 
The Dominican Republic is a nation on the island of Hispaniola, part of the Greater Antilles archipelago in the Caribbean region. The western third of the island is occupied by the nation of Haiti, making Hispaniola one of two Caribbean islands that are shared by two countries. Both by area and population, the Dominican Republic is the second largest Caribbean nation (after Cuba), with 48,442 square kilometers and an estimated 10 million people.
Inhabited by Taínos since the 7th century, the territory of the Dominican Republic was reached by Christopher Columbus in 1492 and became the site of the first permanent European settlement in the Americas. After three centuries of Spanish rule, with French and Haitian interludes, the country became independent in 1821 but was quickly taken over by Haiti. Victorious in the Dominican War of Independence in 1844, Dominicans experienced mostly internal strife, and also a brief return to Spanish rule, over the next 72 years. The United States occupation of 1916–1924, and a subsequent, calm and prosperous six-year period, were followed by the dictatorship of Rafael Leonidas Trujillo Molina until 1961. The civil war of 1965, the country's last, was ended by a U.S.-led intervention, and was followed by the authoritarian rule during1966–1978. Since then, the Dominican Republic has moved toward representative democracy.
The Dominican Republic has the second largest economy in the Caribbean and Central American region. Though long known for sugar production, the economy is now dominated by services. The country's economic progress is exemplified by its advanced telecommunication system. International migration greatly affects the country, as it receives and sends large flows of migrants. Haitian immigration and the integration of Dominicans of Haitian descent are major issues; the total population of Haitian origin is estimated to be 800,000. A large Dominican diaspora exists, most of it in the United States, where it numbers 1.3 million. They aid national development as they send billions of dollars to their families, accounting for one-tenth of the Dominican GDP.