French Guiana
<![if !vml]>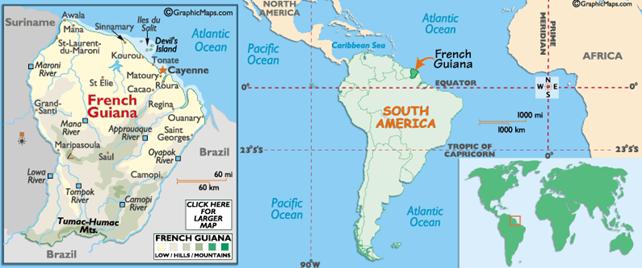 <![endif]> 
French Guiana is an overseas region of France, consisting of a single overseas department (DOM) located on the northern coast of South America. It has borders with two nations, Brazil and Suriname. Like the other DOMs, French Guiana is also an overseas region of France, one of the 100 regions of France. Its currency is the euro.
The addition of the adjective "French" comes from colonial times when three such colonies existed: British Guiana (now Guyana), Dutch Guiana (now Suriname) and French Guiana. The three are still often collectively referred to as the Guianas.
French Guiana was originally inhabited by a number of indigenous American people. It was settled by the French during the 17th century. After the Treaty of Paris in 1763, Louis XV sent 12,000 settlers to French Guiana to colonize the region. One and a half years later only a few hundred survived. Its infamous Īle du Diable (Devil's Island) was the site of penal settlements from 1852 until 1951. More than 70,000 French convicts were deported to French Guiana between 1852 and 1939.
In 1809 a Portuguese-British naval squadron took French Guiana for the Portuguese Empire. With the signing of the Treaty of Paris in 1814 the region was handed back to the French, though a Portuguese presence remained until 1817.
A border dispute with Brazil arose in the late nineteenth century over a vast area of jungle, leading to the short-lived pro-French independent state of Counani in the disputed territory and some fighting between settlers, before the dispute was resolved largely in favor of Brazil by the arbitration of the Swiss government.
In 1946, French Guiana became an overseas department of France. The 1970s saw the settlement of Hmong refugees from Laos. A movement for increased autonomy from France gained some momentum in the 1970s and 1980s, but has since abated.