Ivory Coast
<![if !vml]>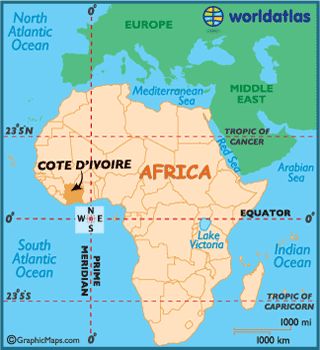 <![endif]> <![if !vml]>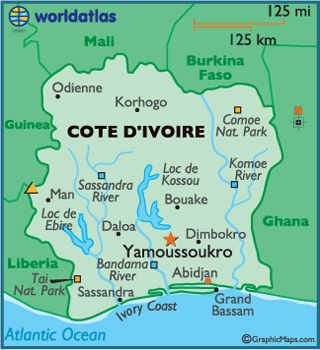 <![endif]>
Ivory Coast or Côte d'Ivoire, officially the Republic of Côte d'Ivoire, is a country in West Africa. It borders the countries Liberia, Guinea, Mali, Burkina Faso and Ghana; its southern boundary is along the Gulf of Guinea. The official language is French, although many of the local languages are widely used. The main religions are Islam, Christianity (primarily Roman Catholic) and various indigenous religions.
Prior to its colonization by Europeans, Ivory Coast was home to several states, including Gyaaman, the Kong Empire, and Baoul¨¦. There were two Anyi kingdoms, Ind¨¦ni¨¦ and Sanwi, which attempted to retain their separate identity through the French colonial period and after independence An 1843¨C1844 treaty made Ivory Coast a protectorate of France and in 1893, it became a French colony as part of the European scramble for Africa. Ivory Coast became independent on 7 August 1960. The country maintained close political and economic association with its West African neighbors, while at the same time maintaining close ties to the West, especially to France.
Through production of coffee and cocoa, Ivory Coast was an economic powerhouse during the 1960s and 1970s in West Africa. However, Ivory Coast went through an economic crisis in the 1980s, leading to the country's period of political and social turmoil. The 21st century Ivoirian economy is largely market-based and relies heavily on agriculture, with smallholder cash crop production being dominant.