Leeward Islands
<![if !vml]>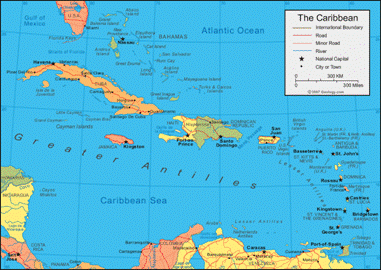 <![endif]>  <![if !vml]>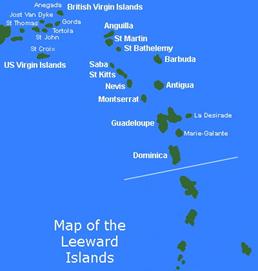 <![endif]>
The Leeward Islands are the northern islands of the Lesser Antilles chain of islands, east of Puerto Rico and running southward to Dominica, being part of the West Indies. They are situated where the northeastern Caribbean Sea meets the western Atlantic Ocean. The southern part of the Lesser Antilles chain is called the Windward Islands.
The British Leeward Islands was a British colony existing between 1833 and 1960, and consisting of Antigua, Barbuda, the British Virgin Islands, Montserrat, Saint Kitts, Nevis, Anguilla and (to 1940) Dominica.
The previous colony of the Leeward Islands had existed since 1671, but in 1816 it was divided in two, with Antigua, Barbuda and Montserrat in one colony, and Saint Christopher, Nevis, Anguilla, and the Virgin Islands in another.
The colony was known as the Federal Colony of the Leeward Islands from 1871 to 1956 and the Territory of the Leeward Islands from 1956 to 1960.
Each presidency issued its own stamps, using them along with the Leeward Islands general issues, which inscribed "Leeward Islands", among 1890-1956.