Liechtenstein
<![if !vml]>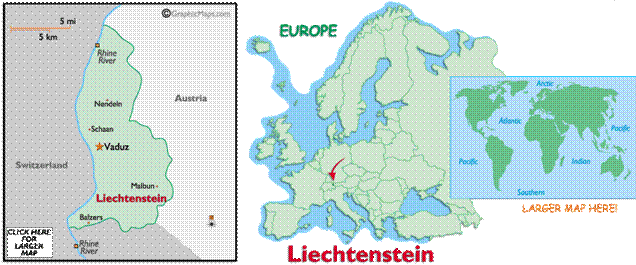 <![endif]>
The Principality of Liechtenstein is a tiny, doubly landlocked alpine country in Western Europe, bordered by Switzerland to its west and by Austria to its east. Mountainous, it is a winter sports destination, although it is perhaps best known as a tax haven. Despite this, it is not heavily urbanized. Many cultivated fields and small farms characterize its landscape both in the north and in the south. It is the smallest German-speaking country in the world.
At one time, the territory of Liechtenstein formed a part of the ancient Roman province of Raetia. For centuries this territory, geographically removed from European strategic interests, had little impact on the tide of European history.
Until the end of World War I, Liechtenstein first was closely tied to the Austrian Empire and later to Austria-Hungary; however, the economic devastation caused by WWI forced the country to conclude a customs and monetary union with its another neighbor Switzerland. Liechtenstein's Army was disbanded in 1868 for financial reasons. At the time of the dissolution of the Austro-Hungarian Empire, it was argued that Liechtenstein as a fief of the Holy Roman Empire was no longer bound to the emerging independent state Austria, since the latter did not consider itself as the legal successor to the Empire. This is partly contradicted by the coeval Liechtenstein perception that the dethroned Austro-Hungarian Emperor still maintained an abstract heritage of the Holy Roman Empire.
During World War II, Liechtenstein remained neutral. In dire financial straits following the war, the Liechtenstein dynasty often resorted to selling family artistic treasures, including for instance the priceless portrait "Ginevra de' Benci" by Leonardo da Vinci, which was purchased by the National Gallery of Art of the United States in 1967. Liechtenstein prospered, however, during the decades following, as it used its low corporate tax rates to draw many companies to the country.
The Prince of Liechtenstein is the world's sixth wealthiest leader with an estimated wealth of USD $4 billion. The country's population enjoys one of the world's highest standards of living.