Mozambique
<![if !vml]>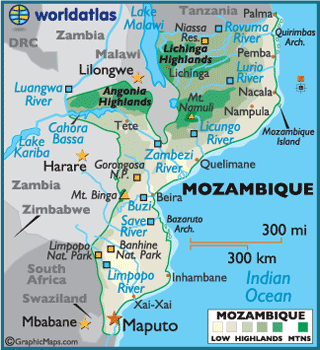 <![endif]> <![if !vml]>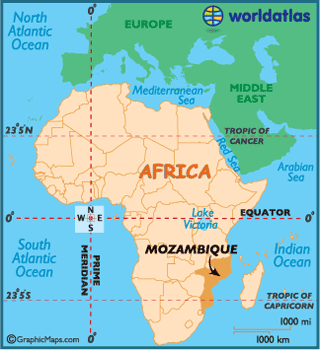 <![endif]> 
Mozambique, officially the Republic of Mozambique, is a country in southeastern Africa bordered by the Indian Ocean to the east, Tanzania to the north, Malawi and Zambia to the northwest, Zimbabwe to the west and Swaziland and South Africa to the southwest. The capital city is Maputo, formerly known as Lourenço Marques. Mozambique's official language is Portuguese. It is a member of the Commonwealth and is one of the two members which is not former part of the British Empire.
Between the 1st and 5th centuries AD, Bantu-speaking peoples migrated from farther north and west. Swahili, and later also Arab, commercial ports existed along the coasts until the arrival of Europeans. The area was colonized by Portugal in 1505. In the early 20th century the Portuguese shifted the administration of much of Mozambique to large private companies, like the Mozambique Company, the Zambezia Company and the Nyassa Company, controlled and financed mostly by the British, which established railroad lines to neighboring countries. Due to their unsatisfactory performance and the shift towards a stronger Portuguese control of Portuguese empire's economy, the companies' concessions were not renewed when they ran out. This was what happened in 1929 with the Nyassa Company and in 1942 with the Mozambique Company. In 1951, the Portuguese overseas colonies in Africa were rebranded as Overseas Provinces of Portugal.
 Mozambique became independent in 1975, and became the People's Republic of Mozambique shortly after. It was the scene of an intense civil war lasting from 1977 to 1992.