Netherlands Antilles
<![if !vml]>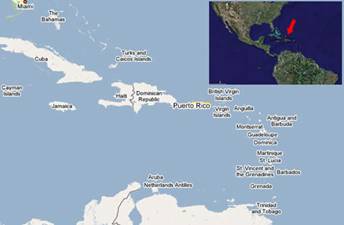 <![endif]><![if !vml]>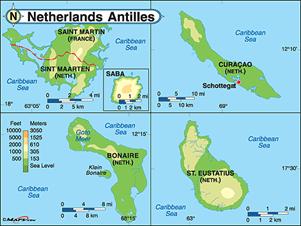 <![endif]>
The Netherlands Antilles was an autonomous Caribbean country within the Kingdom of the Netherlands, consisting of two groups of islands in the Lesser Antilles: Aruba, Curaçao and Bonaire ( ABC Islands ), in Leeward Antilles just off the Venezuelan coast; and Sint Eustatius, Saba and Sint Maarten ( SSS Islands ), in the Leeward Islands southeast of the Virgin Islands.
Aruba seceded in 1986 as a separate country within the Kingdom of the Netherlands, and the rest of the Netherlands Antilles was dissolved on 10 October 2010, resulting in two new constituent countries, Curaçao and Sint Maarten, with the other islands joining the Netherlands as "special municipalities", officially public bodies.
The name 'Netherlands Antilles' is still sometimes used to indicate the islands which are part of the Kingdom of the Netherlands.
Spanish-sponsored explorers discovered both the Leeward and Windward island groups, but Spain founded settlements only in the Leeward Islands. In the 17th century, the islands were conquered by the Dutch West India Company and were used as military outposts and trade bases. In the late 18th century both Curaçao and Sint Eustatius became prominent in the slave trade.
From 1815 onwards, Curaçao and Dependencies formed a colony of the Kingdom of the Netherlands. In 1865 a government regulation for Curaçao was enacted that allowed for some very limited autonomy for the colony. This changed after the conclusion of the Second World War. British and American occupation—with consent by the Dutch government—of the islands during the war led to increasing demands for autonomy within the population as well.
The territory was renamed to "Netherlands Antilles" in 1948. On 3 March 1951, the Island Regulation of the Netherlands Antilles was issued by royal decree, giving fairly large autonomy to the various island territories in the Netherlands Antilles. A consolidated version of this regulation remained in force until the dissolution of the Netherlands Antilles in 2010.