Portugal
<![if !vml]>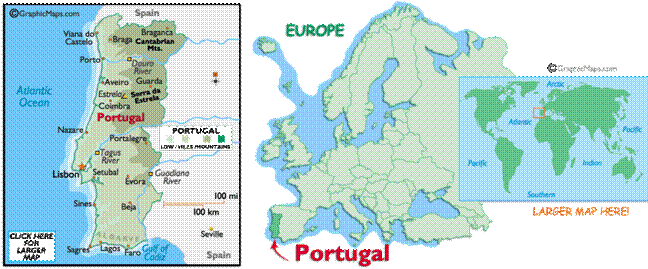 <![endif]>
Portugal, officially the Portuguese Republic, is a country in southwestern Europe, on the Iberian Peninsula. Being the westernmost country of mainland Europe, Portugal is bordered by the Atlantic Ocean to the west and south and by Spain to the north and east. The Atlantic archipelagos of the Azores and Madeira are also part of Portugal.
During the 15th and 16th centuries, with its global empire which included possessions in Africa, Asia and South America, Portugal was one of the world's major economic, political, and cultural powers. In the 19th century, armed conflict with French and Spanish invading forces at mainland, and the loss of its largest territorial possession abroad, Brazil, which declared independence unilaterally, disrupted political stability and potential economic growth.
Today Portugal is a developed country, although having one of the lowest GDP per capita of Western European countries.