Slovenia
<![if !vml]>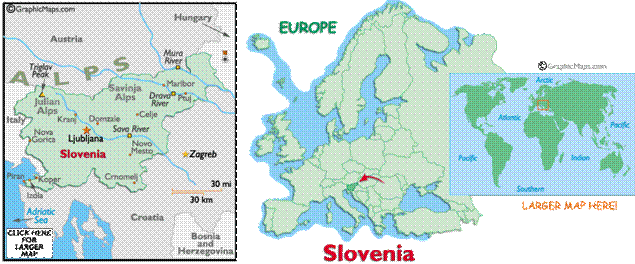 <![endif]>
Slovenia, officially the Republic of Slovenia, is a country in southern Central Europe bordering Italy, the Adriatic Sea, Croatia, Hungary and Austria.
At various points in Slovenia's history, the country has been part of the Roman Empire, the Byzantine Empire, the Republic of Venice, the Duchy of Carantania (only modern Slovenia's northern part), the Holy Roman Empire, the Habsburg Monarchy, the Austrian Empire (later known as Austria-Hungary), the State of Slovenes, Croats and Serbs, the Kingdom of Serbs, Croats and Slovenes (renamed to Kingdom of Yugoslavia in 1929) between the two World Wars, and the Socialist Federal Republic of Yugoslavia from 1945 until gaining independence in 1991. In April 1941, Yugoslavia was invaded by the Axis Powers. Slovenia was divided between Fascist Italy, Nazi Germany and Horthy's Hungary.
In December 1990, the overwhelming majority of Slovenian citizens voted for independence, which was declared on 25 June 1991. A Ten-Day War followed in which the Slovenians rejected Yugoslav military interference.