Spain
<![if !vml]>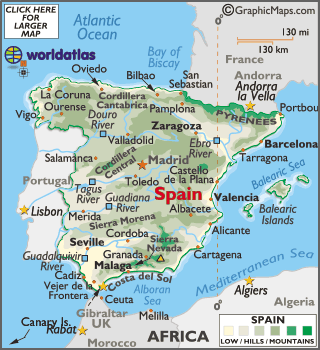 <![endif]> <![if !vml]>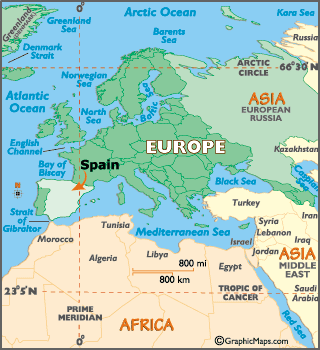 <![endif]>
Spain, officially the Kingdom of Spain locates on the Iberian Peninsula in southwestern Europe. Its mainland is bordered to France, Andorra, Portugal, the Atlantic Ocean and the Mediterranean Sea except for a small land boundary with Gibraltar;
Spanish territory also includes two archipelagos; the Balearic Islands, in the Mediterranean Sea, and the Canary Islands, in the Atlantic Ocean off the African coast; two major exclaves, Ceuta and Melilla, in continental North Africa. Spain is the second largest country in Western Europe and the European Union, and the fourth largest country in Europe.
Modern humans first arrived in the Iberian Peninsula around 35,000 years ago. Iberian cultures along with ancient Phoenician, Greek and Carthaginian settlements developed on the peninsula until it came under Roman rule around 200 BCE, after which the region was named Hispania. In the Middle Ages, the area was conquered by Germanic tribes and later by the Moors. Spain emerged as a unified country in the 15th century, following the marriage of the Catholic Monarchs and the completion of the centuries-long reconquest of the peninsula from the Moors in 1492. In the early modern period, Spain became one of history's first global colonial empires, leaving a vast cultural and linguistic legacy that includes over 500 million Spanish speakers, making Spanish the world's second most spoken first language.
Spain remained neutral in World War I and II but suffered through a devastating civil war (1936-39). A peaceful transition to democracy following the death of dictator Francisco FRANCO in 1975, and rapid economic modernization (Spain joined the EU in 1986) gave Spain a dynamic and rapidly growing.