St. Kitts and Nevis
<![if !vml]>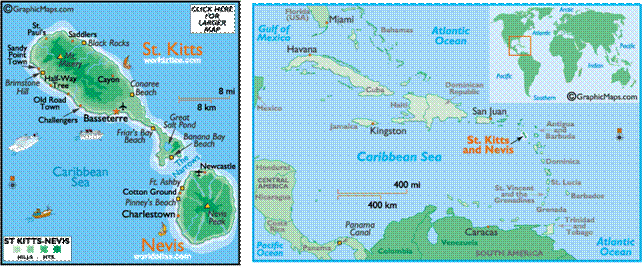 <![endif]> 
The Federation of Saint Kitts and Nevis (also known as the Federation of Saint Christopher and Nevis), located in the Leeward Islands, is a federal two-island nation in the West Indies. It is the smallest sovereign nation in the Americas, in both area and population. The smaller state of Nevis lies about 3 km southeast of Saint Kitts.
Historically, the British dependency of Anguilla was also a part of this union, which was then known collectively as Saint Christopher-Nevis-Anguilla.
The islands of Saint Kitts and Nevis are two of the Caribbean's oldest colonized territories. Saint Kitts became the first British colony in the West Indies in 1624 and then became the first French colony in the Caribbean in 1625, when both nations decided to partition the island. The island of Nevis was colonized in 1628 by British settlers from Saint Kitts. From there, Saint Kitts became the premier base for British and French expansion, as the islands of Antigua, Montserrat, Anguilla and Tortola for the British, and Martinique, the Guadeloupe archipelago and St. Barths for the French were colonized from it.
Although small in size, and separated by only 3 km of water, the two islands were viewed and governed as different states until the late 19th century, when they were forcibly unified along with the island of Anguilla by the British. To this day relations are strained, with Nevis accusing Saint Kitts of neglecting its needs.
Saint Kitts and Nevis, along with Anguilla, became an associated state with full internal autonomy in 1967. Angullians rebelled, and their island was allowed to separate from the others in 1971. St. Kitts and Nevis achieved independence in 1983. It is the newest sovereign nation in the Americas.