St. Thomas and Prince Islands
<![if !vml]>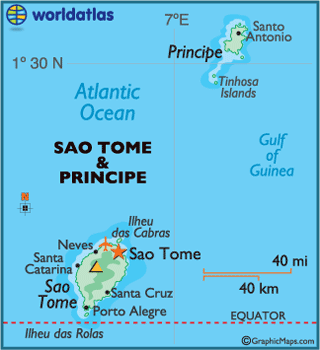 <![endif]> <![if !vml]>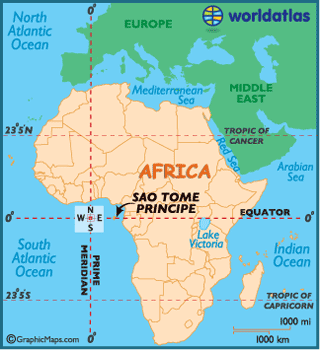 <![endif]> 
São Tomé and Príncipe, officially the Democratic Republic of São Tomé and Príncipe, is a Portuguese-speaking island nation in the Gulf of Guinea, off the western equatorial coast of Central Africa. It consists of two archipelagos around the two main islands: São Tomé and Príncipe, located about 140 kilometers apart and about 250 and 225 kilometers respectively, off the northwestern coast of Gabon.
The islands of São Tomé and Príncipe were uninhabited before the arrival of the Portuguese sometime around 1470. São Tomé and Príncipe were taken over and administered by the Portuguese crown in 1522 and 1573, respectively. By the mid-17th century, it was primarily a transit point for ships engaged in the slave trade between the West and continental Africa. In the early 19th century, two new cash crops, coffee and cocoa, were introduced. The rich volcanic soils proved well suited to the new cash crop industry, and soon extensive plantations occupied almost all of the good farmland. By 1908, São Tomé had become the world's largest producer of cocoa, which remains the country's most important crop.
By the late 1950s, when other emerging nations across the African Continent were demanding independence, a small group of São Toméans had formed the Movement for the Liberation of São Tomé and Príncipe, which eventually established its base in nearby Gabon. Picking up momentum in the 1960s, events moved quickly after the overthrow of the Caetano dictatorship in Portugal in April 1974. The new Portuguese regime was committed to the dissolution of its overseas colonies. After a period of transitional government, São Tomé and Príncipe achieved independence on July 12, 1975.
In 1990, São Tomé became one of the first African countries to embrace democratic reform, and changes to the constitution — the legalization of opposition political parties — led to elections in 1991 that were nonviolent, free, and transparent.