TURKS AND CAICOS ISLANDS
 <![if !vml]>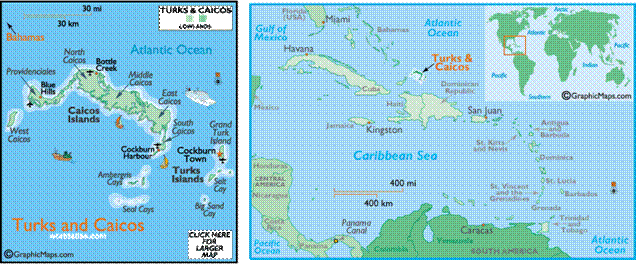 <![endif]>
The Turks and Caicos Islands are a British Overseas Territory consisting of two groups of tropical islands in the West Indies, the larger Caicos Islands and the smaller Turks Islands, known for tourism and as an offshore financial centre.
The Turks and Caicos Islands are situated about 970 km southeast of Miami and 80 km south east of Mayaguana in the Bahamas, and have a total land area of 430 km2. The islands are geographically contiguous to the Bahamas, but are politically a separate entity.
For several decades around the turn of the 18th century the Turks and Caicos Islands became popular pirate hideouts. Bermudian salt collectors settled the Turk Islands around 1680. In 1765–1783 they were under French occupation. After the American Revolution (1775–1783) many loyalists fled to Caribbean colonies, including (in 1783) the first settlers on the Caicos Islands; cotton became an important crop briefly. In 1799, both the Turks and the Caicos island groups were annexed by Britain as part of the Bahamas.
In 1848 the Turks and Caicos were declared a separate colony under a council president. The last incumbent was maintained in 1873 when the islands were made part of Jamaica colony and remained a dependency of Jamaica until 1959, when the islands were again a separate colony, the governor of Jamaica remained the governor of the islands. Until 31 May 1962, they were one of the constitutive parts of the Federation of the West Indies.
When Jamaica was granted independence from Britain in August 1962, the Turks and Caicos Islands became a crown colony. From 1965, the governor of the Bahamas was also governor of the Turks and Caicos Islands and oversaw affairs for the islands. When the Bahamas gained independence in 1973, the Turks and Caicos received their own governor. The islands have had their own government headed by a chief minister since August 1976. In 1979, independence was agreed upon in principle for 1982, but a change in government caused a policy reversal.