Ukraine
<![if !vml]>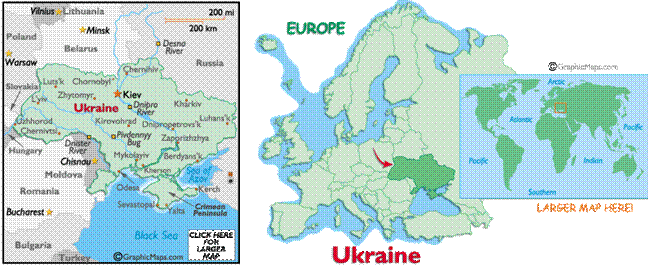 <![endif]>
Ukraine, one of former Soviet Union Republics, is a country in Eastern Europe. It borders Russia,Belarus, Poland, Slovakia, Hungary, Romania and Moldova. The Black Sea and Sea of Azov are in its south.
The nation's history began with that of the East Slavs. From at least the 9th century, the territory of Ukraine was a center of the medieval East Slavic civilization forming the state of Kievan Rus', which disintegrated in the 12th century. From the 14th century on, the territory of Ukraine was divided among a number of regional powers and by the 19th century the largest part of Ukraine was integrated into the Russian Empire with the rest under Austro-Hungarian control. After a chaotic period of incessant warfare and several attempts at independence (1917–1921) following the Russian Revolution and the Great War, Ukraine emerged in 1922 as one of the founding republics of the Soviet Union. In WWII, together with Belarus, Ukraine was the first Soviet Republics attacked and occupied by Germany. Total civilian losses during the War in Ukraine are estimated at seven million. Many of civilians fell victim to atrocities, forced labor, and even massacres of whole villages in reprisal for attacks against Nazi forces. Ukrainians also contributed great for Soviet Union to win this war. Of the estimated eleven million Soviet troops who fell in battle against the Nazis, about a quarter (2.7 million) were ethnic Ukrainians.
In 1945, the Ukrainian SSR became one of the co-founding members of the United Nations. Ukraine became independent again after the dissolution of the Soviet Union in 1991. This began a transition period to a market economy, in which Ukraine was stricken with eight straight years of economic decline. But since about the turn of the century, the economy has been experiencing a stable increase, with real GDP growth averaging about seven percent annually.