Virgin Islands
<![if !vml]>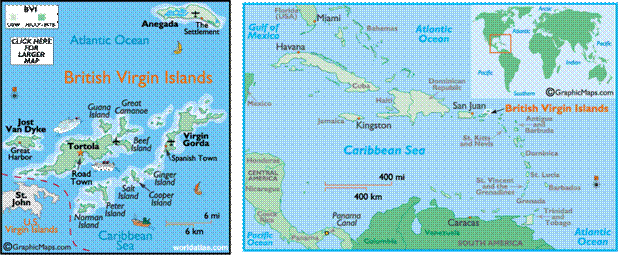 <![endif]> 
The British Virgin Islands is a British overseas territory, located in the Caribbean to the east of Puerto Rico. The islands make up part of the Virgin Islands archipelago, the remaining islands constituting the U.S. Virgin Islands. Technically the name of the Territory is simply the "Virgin Islands", but in practice since 1917 they have been almost universally referred to as the "British Virgin Islands" to distinguish the islands from the American Territory. To add to the regional confusion, the Puerto Rican islands of Culebra, Vieques and surrounding islands began referring to themselves as the "Spanish Virgin Islands" as part of a tourism drive in the early 2000s.
The British Virgin Islands consist of the main islands of Tortola, Virgin Gorda, Anegada and Jost Van Dyke, along with over fifty other smaller islands and cays. Approximately fifteen of the islands are inhabited.
The British got the control of the Virgin Islands in late 17 century. The British Virgin Islands were administered variously as part of the British Leeward Islands or with St. Kitts and Nevis, with an Administrator representing the British Government on the Islands. Separate colony status was gained for the Islands in 1960 and the Islands became autonomous in 1967. Since the 1960s, the Islands have diversified away from their traditionally agriculture-based economy towards tourism and financial services, becoming one of the richest areas in the Caribbean.